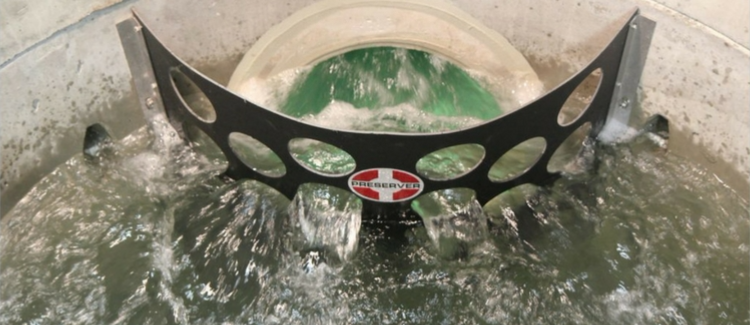 Created by Momentum Environmental, The Preserver is a retrofittable stormwater treatment system designed for both new and existing sump manholes to meet total suspended sediment removal requirements and reduce storm sewer maintenance costs. The Preserver is made of recycled HDPE and stainless steel to offer durability and resistance to corrosion.
The Preserver consists of two components, an energy dissapator placed at the inlet of the structure and a skimmer placed at the outlet of the structure. The energy dissapator controls the flow of stormwater to prevent scour of previously captured sediment, while the skimmer forces outflow from below the water surface, trapping suspended solids within the manhole.
The Preserver offers easy installation, consisting of alinging and attaching mounting brackets and attaching the energy dissapator and skimmer components to the brackets. All mounting hardware is provided along with detailed instructions. Maintenance is also simple with The Preserver, as it requires a cleanout with a vacuum truck one or two times per year.