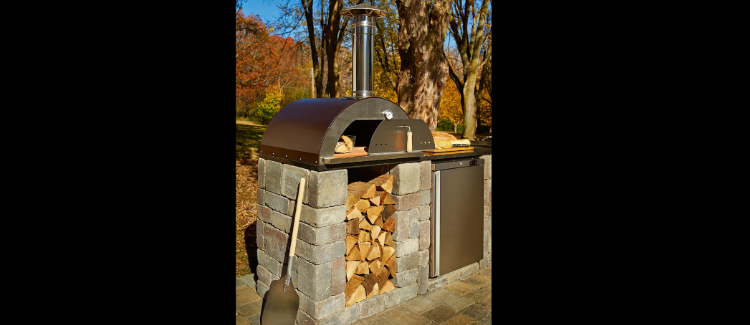 This beautiful stand-alone wood-fired outdoor oven is sure to be enjoyed for its ease of use and ability to bake delicious entrees, breads, desserts and pizzas in minutes.
Wood-Fired Outdoor Oven Features
32" W x 30" D x 40" H
24" x 24" cooking surface
Handcrafted in Sicily
#304 stainless steel construction
Reinforced, polished stainless steel chimney pipe
Stainless steel wood caddy
Stainless steel door
°C/F° Thermometer
Color: Hammered copper
Wood Box Stand Kit Features
4.75 cu. ft. of storage (16" W x 16" D x 32" H opening)
Choice of granite/cabinet colors
Wood-Fired Outdoor Oven Toolkit
These Italian made cooking tools for wood-fired ovens will be appreciated for their ease of use and lasting quality. Made of #304 stainless steel construction and solid beechwood handles. Ideal companions to Necessories Outdoor oven. Sold as a set.
11.5″ Square Peel - For creating and placing pizzas, breads, etc., and for removing ashes. 55" L.
8.5″ Round Peel - Use to check, turn/move and remove items from oven. 51" L.
Ash Sweep - Solid wood head with brass bristles. 51" L.